Lucerne seed production is an enterprise that can be very profitable.
Paddock selection is an important part of lucerne seed production. It is important that a paddock is adequately prepared. As lucerne seed is a small seed, it is critical that a fine seedbed is achieved to plant into to enhance seedling establishment.
Nutrient requirements for lucerne seed production are simple. Generally, the most important nutrient is Phosphorus. Lucerne does not require nitrogen applications as long as sufficient inoculation and nodulation occurs. Deficiencies of Potassium, Molybdenum, Calcium, Zinc and Boron can also cause yield losses. A comprehensive soil test will indicate what deficiencies may be experienced and what action may need to be taken.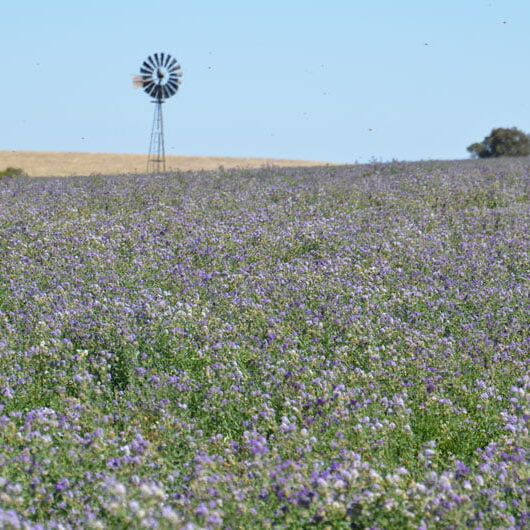 There are considerations to be made when determining what rate to plant lucerne seed crops. The following are the different cropping systems that can be used:
Purely seed production.
Hay and grazing production, with seed being an opportunity crop.
Maximize all three parts e.g. seed, hay and grazing.
These all require different planting rates and resultant plant counts. For example, if the cropping system is purely for seed, achieve a plant population of no more than 25 plants per metre. If a crop is more dual purpose, a population of over 100 plants per metre is required.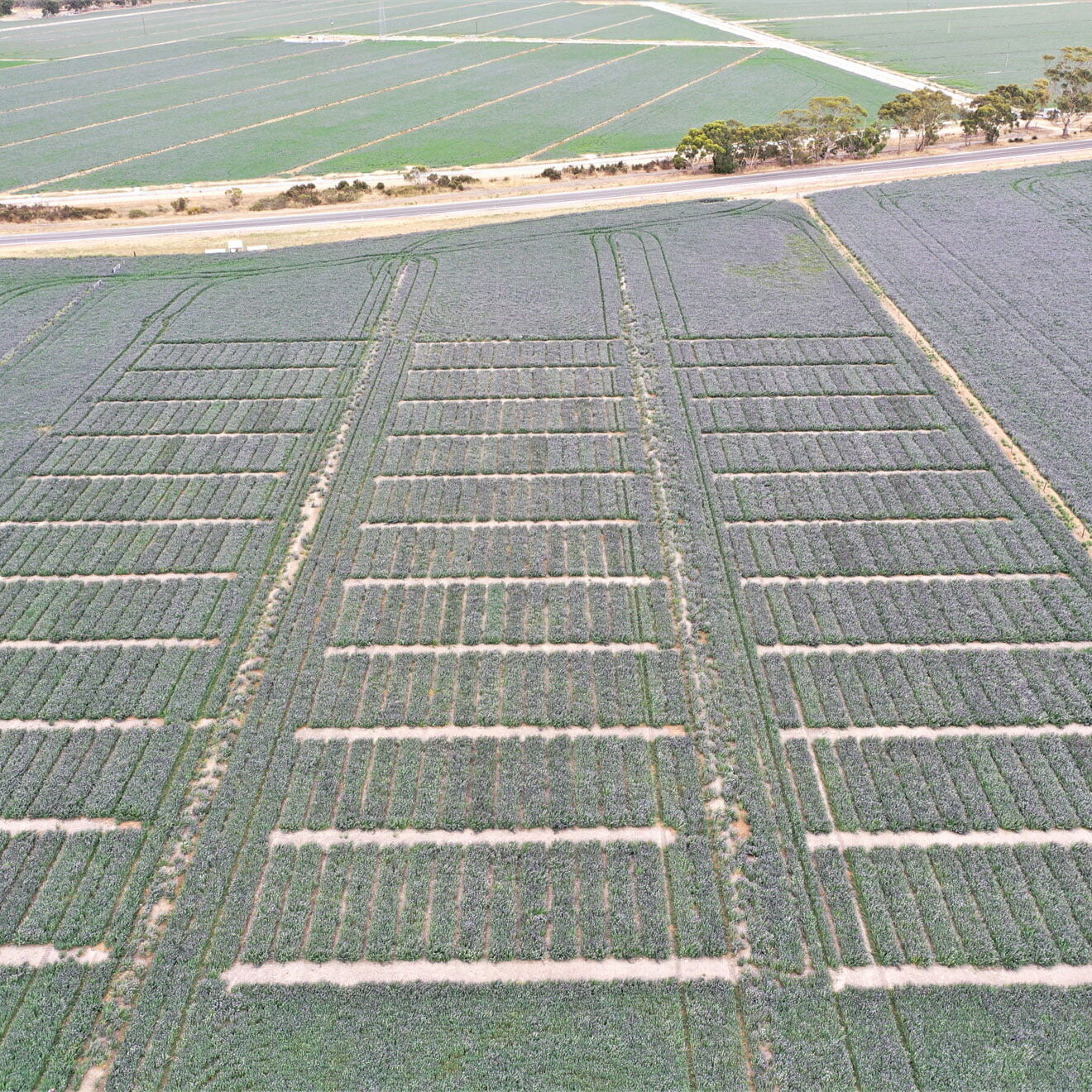 The equipment used to plant lucerne seed crops varies depending on what cropping system is used to grow lucerne seed (e.g. row crop or broad acre).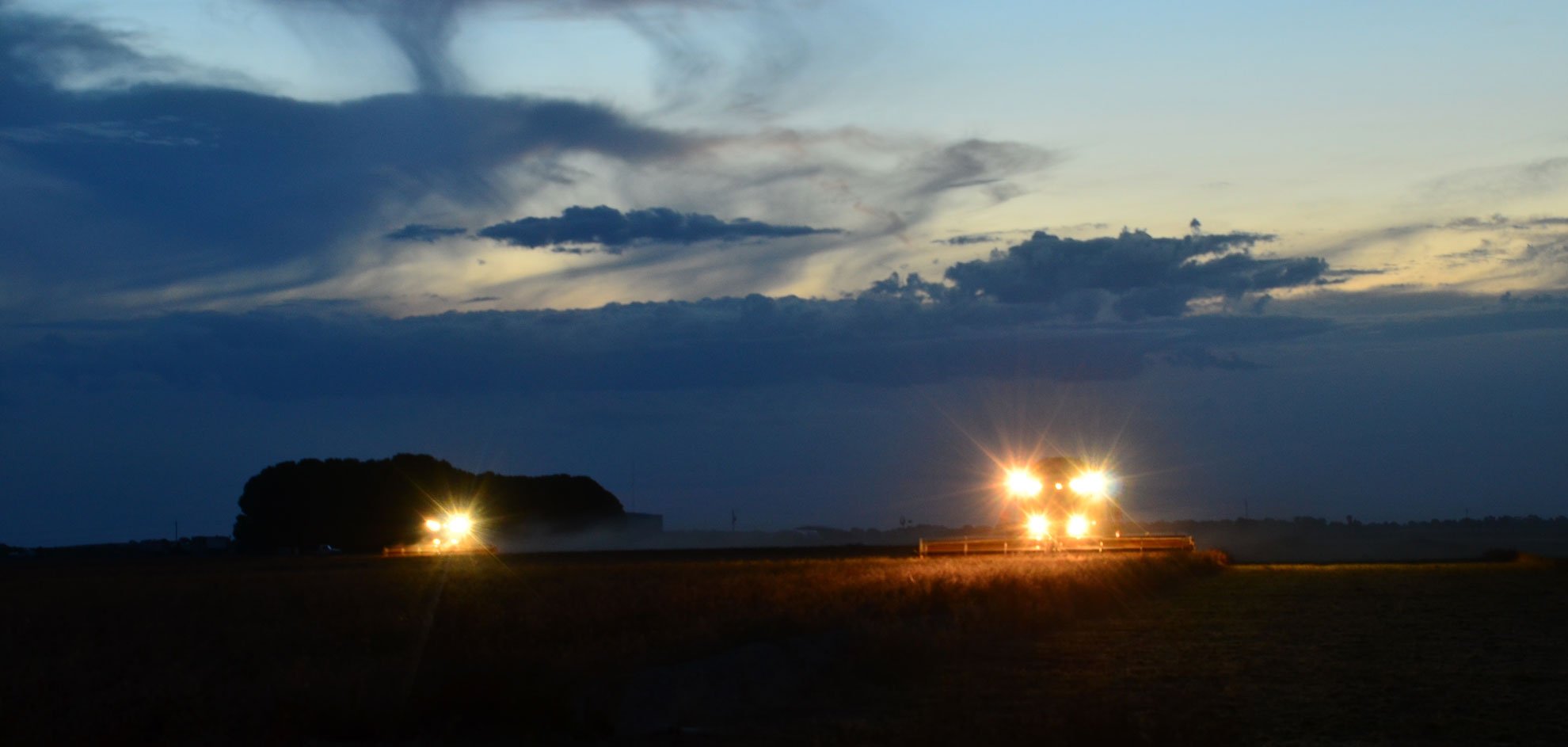 Most lucerne seed produced in Australia is certified under OECD (Organisation for Economic Co-operation and Development) or AOSCA (Association of Official Seed Certifying Agencies) protocols.
To produce OECD certified seed, the crop must be planted with OECD basic seed to be eligible for certification. Generally basic seed for seed production is supplied (at cost) to the seed producer. Seed cannot be purchase from stores or neighbours for certified seed production. There are varieties which are suited to the production system used on-farm. The suitability is governed by what contractual and marketing arrangements are available for each variety.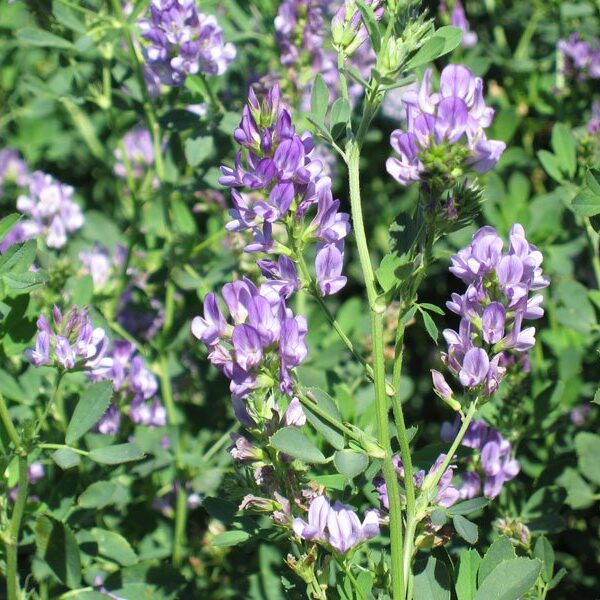 The control of weeds is an important part of lucerne Seed production. The following weed management plan should be considered prior to the planting of a lucerne seed paddock:
Pre-emergent.
Post planting/pre-emergence.
Post-emergence, broken down into two main areas (seedling crops and established crops).
Rates and application timing should be discussed with an agronomist or chemical supplier.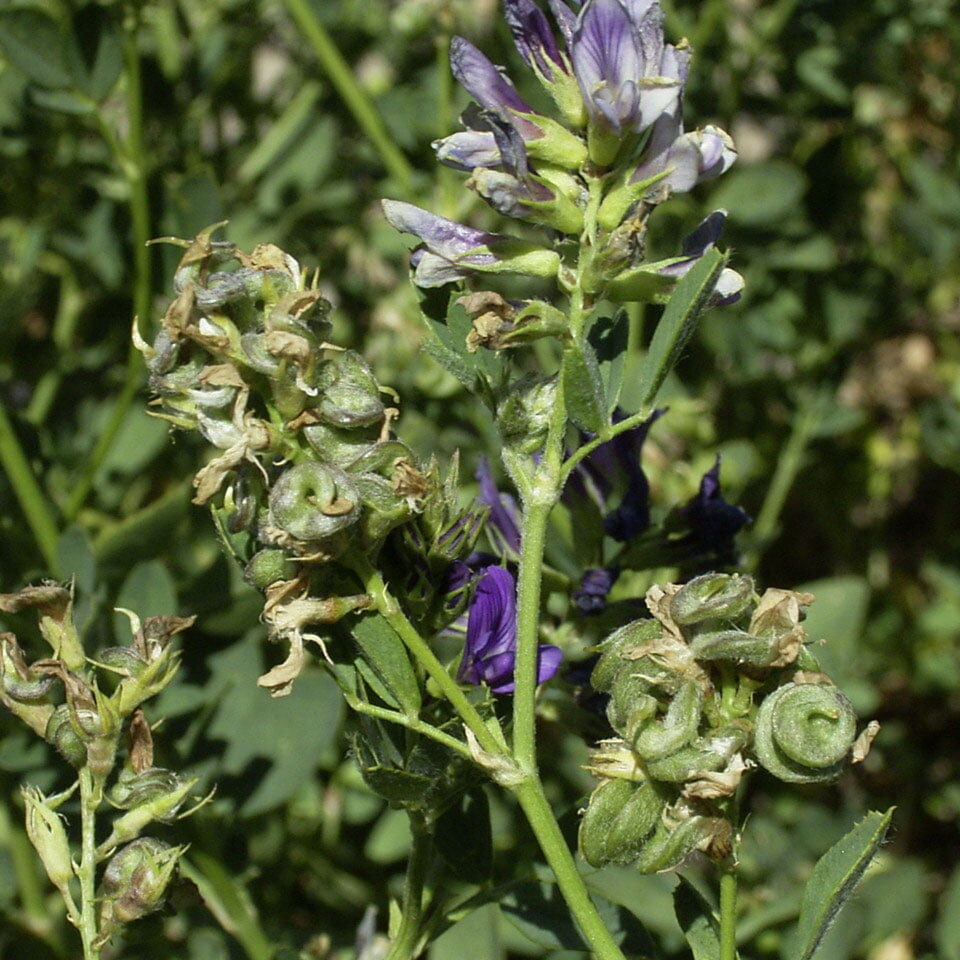 There are a number of irrigation systems that can be used to produce lucerne seed. These systems include:
Border Check – lucerne seed crops are generally planted in narrow rows. This is the most commonly used irrigation system for lucerne seed and hay.
Raised Beds – lucerne seed crops grown on raised beds are generally planted in wide rows (30-40 inches). Quite common for lucerne hay and seed production.
Raised Beds in Bays – raised beds established using a border check or bankless channel irrigation system.
Centre pivot/linear move/water cannon – a very common irrigation system for both lucerne seed and hay.
Irrigation management can be complex with variation in soil types, weather conditions and irrigation systems. There are a number of principles that can be applied which include:
During the growing period of lucerne, there is a point at which the plant is in optimum condition for flowers to 'trip' easily and pollination to occur. This can be referred to as the "Optimum stress level" (OSL).
Effective flowering and pollination will cease to occur when the plant becomes over stressed and this may result in flowers being aborted. Care must be taken not to reach this point as the lucerne plant will become vegetative when irrigated and effective flowering will cease. This can be referred to as the "Critical Stress Level" (CSL).
Producers need to achieve an extended period where lucerne plants are under the optimum stress to achieve successful pollination. This is the period between the OSL and the CSL.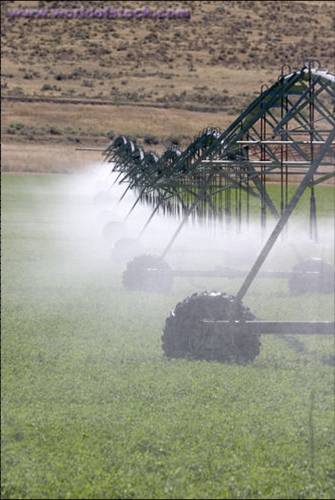 Honey Bees are the most common crop pollinator used for lucerne seed crops in Australia to ensure yields are maximized it is critical that good cross pollination is achieved. Bees aid in pollination by "tripping" lucerne flowers.
There are many beekeepers that specialize in crop pollination. The timing of when to introduce the bees to the crop is important. There must be a minimum 10-20 per cent bloom before the bees are introduced.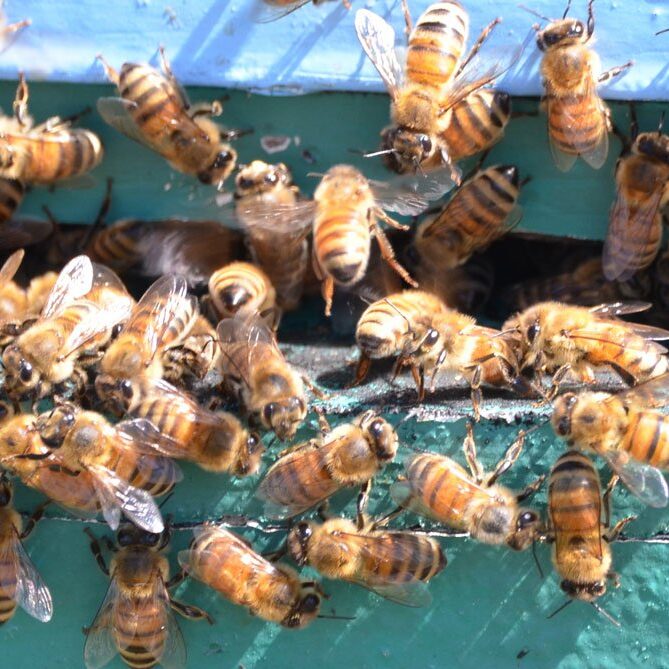 The control of insects in lucerne seed crops is critical for achieving maximum seed yields. Insect management can be broken up into four main areas:
Seedling.
Pre-flowering.
Flowering.
Pod-fill.
Crops should be monitored regularly with the frequency being increased once buds occur. All insecticide applications should be applied after dark when bees are not working the fields.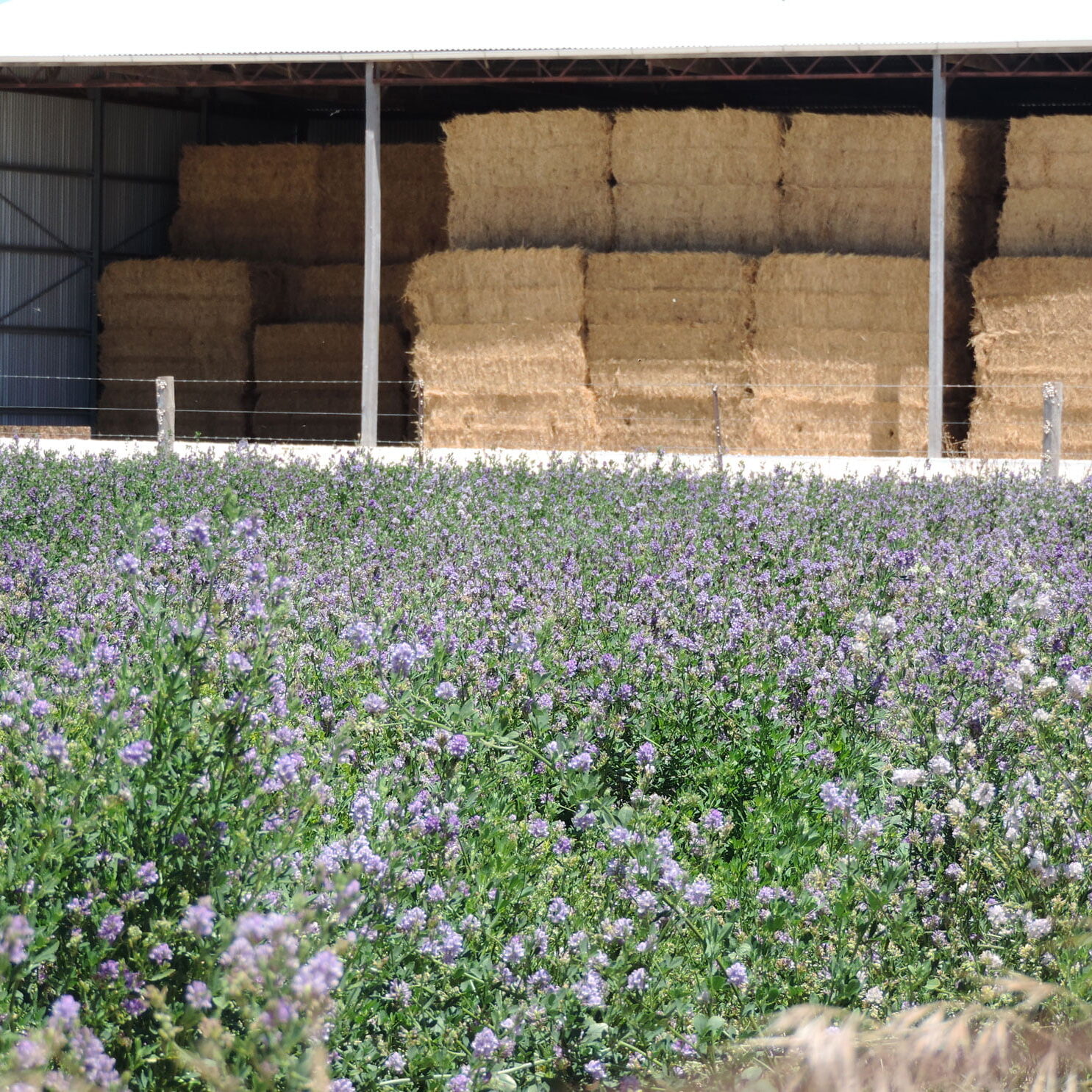 After pollination, it takes five to six weeks for the plant to produce mature seed. Therefore, growers can harvest six weeks after either the bees are removed from the field or the crop has finished flowering. The crop can either be swathed or desiccated and direct headed.
Prior to harvesting a lucerne seed crop it is crucial that the header is cleaned down. This is even more important if changing varieties as headers can be the main source of varietal cross-contamination. Lucerne is a small seed (440,000 seed/kg) so extra care must be taken to ensure a satisfactory clean down.
Harvesting speed, wind and sieve adjustments, as well as cylinder speed are very important factors when harvesting seed. Critical damage can be caused by over-threshing seed, leading to cracked seeds or 'abnormal seedlings'. For more information go to:
Understanding and managing the causes of Abnormal Seedlings in Lucerne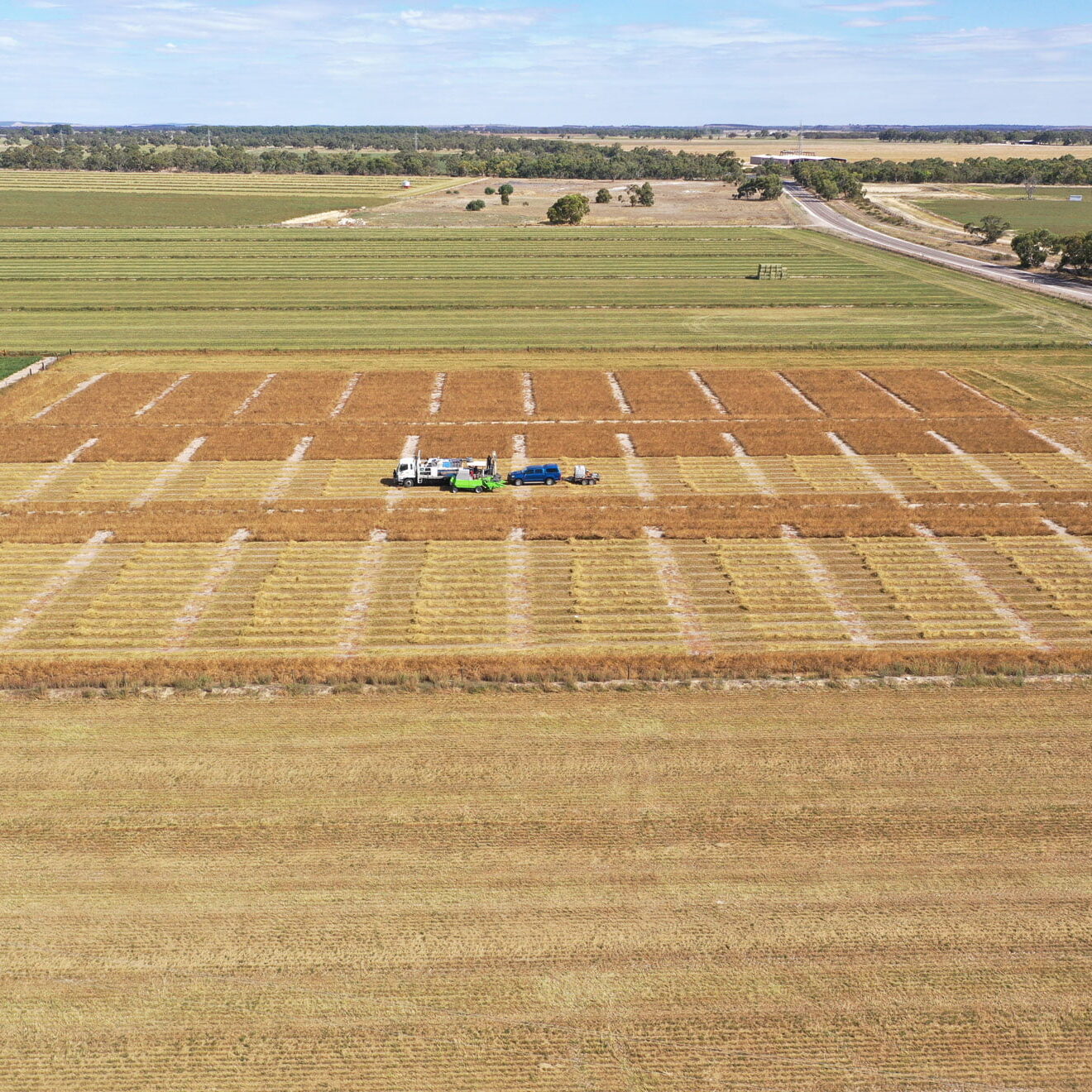 For lucerne seed to be marketed it requires cleaning after harvest. Certified seed can only be cleaned by a seed cleaner who is accredited to handle certified seed.
When seed is being cleaned losses are expected to occur and are generally not the fault of the seed cleaner. Most lucerne seed production contracts specify 99.9 per cent purity and an experienced seed cleaner will clean to this level.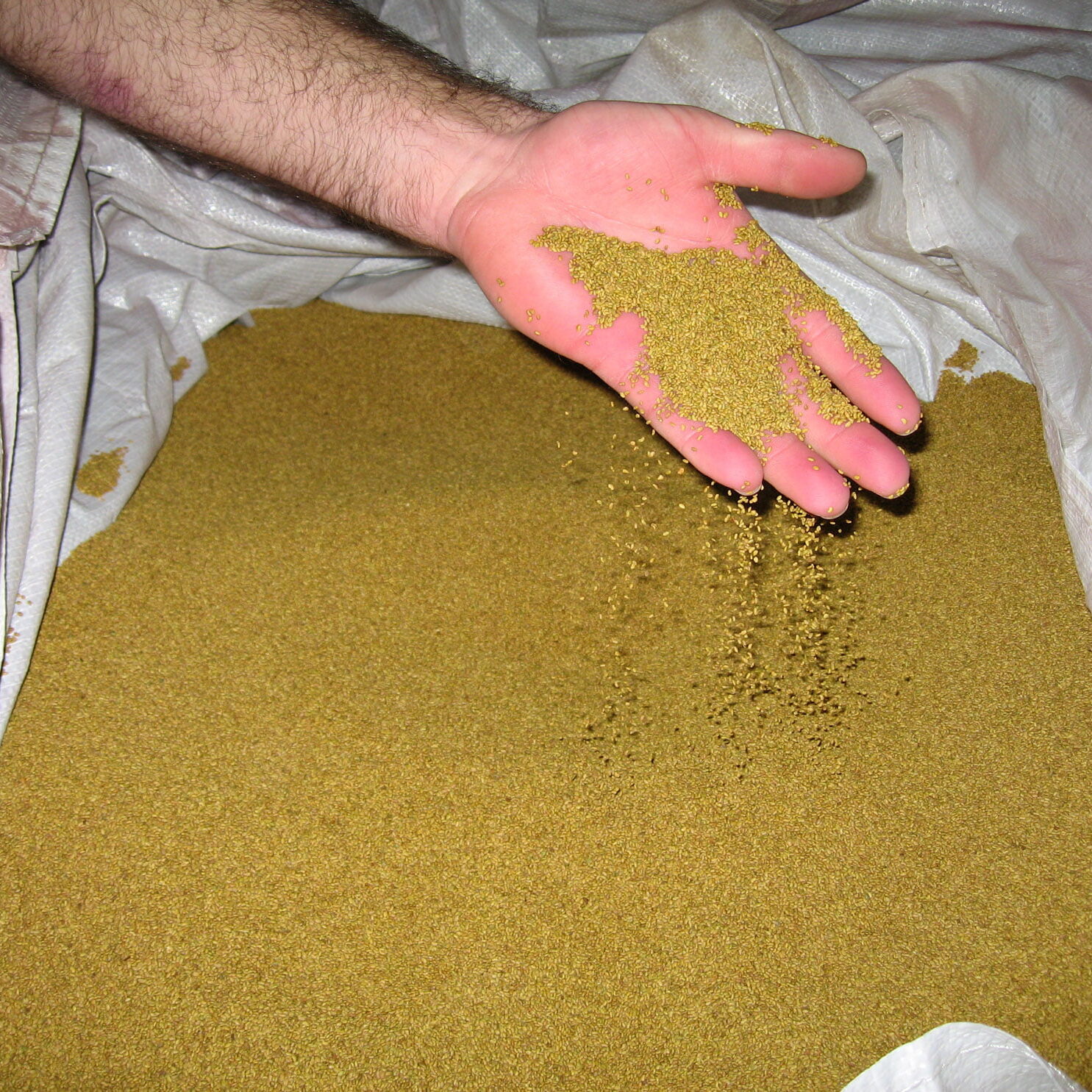 Growers of lucerne seed have two main marketing options when undertaking production of this species:
To produce seed under contract to a company that markets lucerne seed. Contract production of lucerne seed is generally carried out for proprietary varieties where the companies are the owners if the intellectual property (IP) or a producing it under license for the IP owner. This type of production allows the grower to produce varieties that are very new to the market. In some cases the varieties may not even be commercially available in Australia and are being produced for markets in the USA, Middle East or South America.
Produce public variety and either sell the seed to a) neighbours or b) to companies that market public varieties either to domestic or international markets. A disadvantage here is that it may limit the amount of markets open for the seed as they tend to be smaller.
Given the majority of Australia's lucerne seed crop is exported, the prices achieved for seed are influenced by international markets and foreign exchange rates as opposed to market forces domestically.
Lucerne seed production can be one of the most financially rewarding crops farmers can have in their farming enterprises. But there are a lot of risks associated with this. Like most crops, "yield" is the major factor governing net returns per hectare, followed by price.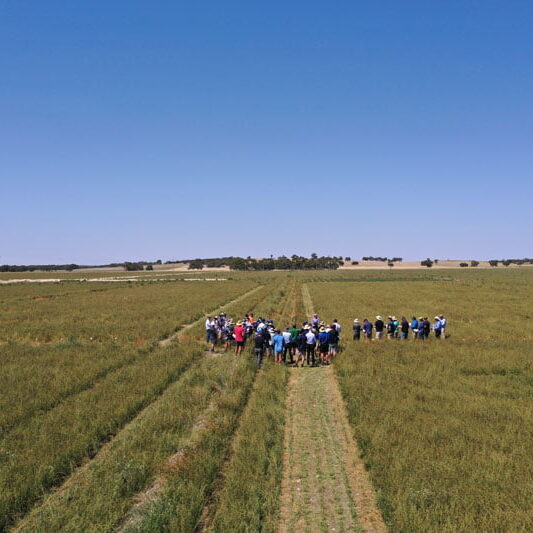 Source: AgriFutures- Agronomic Support Manual for Lucerne Seed Production. Publication No. 10/106 (January 2011)
RIRDC Publication No. 10/106
Lucerne Australia's RIRDC-funded
'Evaluating different fertilisers on lucerne production'
Lucerne Australia's RIRDC-funded
'Evaluating lucerne variety production on centre pivot'